Home > iOS Apps > Featured > WarFriends: PvP Army Shooter Hack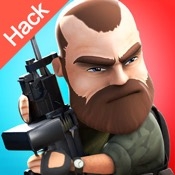 WarFriends: PvP Army Shooter Hack
Size:1.00GB Ver:2.4.0
Update:2019/03/12
Scan QR code & download it
Description
Hack Features:
- No Reload - Working online!
- Free Weapon Deliveries -> Working
- Unlimited Ammo -> Working
This hack only works on x64 or ARM64 iDevices: iPhone 5s, 6, 6 Plus, 6s, 6s Plus, 7, 7 Plus, 8, 8 Plus, X, SE, iPod Touch 6G, iPad Air, Air 2, Pro & iPad Mini 2, 3, 4 and later.

WarFriends is a skill-based, real-time multiplayer game with intuitive touch controls that brings you fast-paced, and action-packed PvP brawls. Collect powerful weapons, assemble an army to cover your back, and go to war against real players from across the world.
More>
Information
Category
Languages
Update
Developer
Compatibility
Game
EN,FR,DE,IT,JA,KO,PT,RU,ZH,ES,ZH 2019/03/12
@iOSGODs
Requires iOS 9.0 or later. Compatible with iPhone, iPad, and iPod touch.
PandaHelper
App Market