Home > iOS Apps > Fool's Day Funny Apps > Hello Neighbor Hide & Seek Hack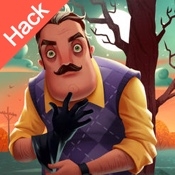 Hello Neighbor Hide & Seek Hack
Size:902.00MB Ver:1.7
Update:2019/02/28
Scan QR code & download it
Description
Hack Features: IAP FREE
Click on the in-app purchase item, the game will pop up the appleid account and password, click Cancel, it will automatically get the in-app purchase item.
This hack only works on x64 or ARM64 iDevices: iPhone 5s, 6, 6 Plus, 6s, 6s Plus, 7, 7 Plus, 8, 8 Plus, X, SE, iPod Touch 6G, iPad Air, Air 2, Pro & iPad Mini 2, 3, 4 and later.

More>
Information
Category
Languages
Update
Developer
Compatibility
Games
English, Simplified Chinese 2019/02/28
iosgods
Requires iOS 10.0 or later. Compatible with iPhone, iPad, and iPod touch.
PandaHelper
App Market
Popular Apps
Youtube++

Changes: - Fix Auto Full Screen - Fix downloads on iPad - Fix background playback Interface Enhancements: • In-App Web Browser • White Keyboard • Hide upload button • Choose Default Main Page • Block promoted ads • Block video ads • Disable age restrictions Media Viewing Enhancements: • Background playback • Forward/Rewind controls with custom number of seconds to go back/forward • Speed controls to set video playback speed (0.5x - 2.0x) • Default playback quality • Auto-replay videos • Beautiful downloads list • Custom audio player for downloaded videos • Play videos in background with control centre controls Media sharing and downloads: • Download videos • The only TRUE 1080p and 60fps YouTube video downloader • Choose default download quality • Import videos to music library using JODebox • Add videos to camera roll ***Please note YouTube ++ is not in anyway associated or affiliated with YouTube Inc, Google Inc. or Alphabet *** ***Also, please note that downloading videos from YouTube for which you do not have permission to do so is against the YouTube TOS. By installing this tweak you agree to use it at your own risk. Use for good not evil :)***

Download

Tap Titans 2 Hack

- Unlimited Coin- Unlimited Skill ManaOnly works on x64 or ARM64 iDevices: iPhone 5s, 6, 6 Plus, 6s, 6s Plus, 7, 7 Plus, 8, 8 Plus, X, SE, iPod Touch 6G, iPad Air, Air 2, Pro & iPad Mini 2, 3, 4 and later.

Download

Pokemon Go++ by iSpoofer

Bypasses Pokemon Go's restrictions and adds new features:-Adds a joystick for walking around the map-Creates your own patrol route-Spoofs your location and go anywhere (Teleport is FREE now!)-Real time scan on availability of Gym Slot around you-Real time Nearby Pokémon/Gym/Stop Radar-In-game IV Checker-Very important notice:DO KEEP IN MIND THAT USING TWEAKS LIKE THIS CAN GET YOU BANNED FROM THE GAME.PLEASE USE IT AT YOUR OWN RISK.ALL POKEMON GO++ CONNECTED SUPPORT REQUESTS WILL BE IGNORED.

Download

Youtube++ Cercube

Download any video in any available quality (from 144p to 1080p)View, manage and share all your downloads in Cercube's download managerBlock adsShare downloaded videos with other devices via AirDropBackground playback for streamed and downloaded videosDownloaded videos are displayed within a beautifully crafted downloads manager that shows all the available informationChoose the default tab to open when launching YouTubeStream videos in HD on cellular networkAuto-replay videosHide floating upload buttonHide the Trending tabRewind or forward videosCercube options are configurable from within YouTube settings

Download