Home > iOS Apps > Featured > Idle Farming Empire Hack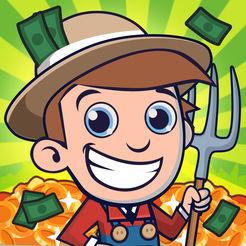 Idle Farming Empire Hack
Size:65.00MB Ver:1.13.2
Update:2019/02/11
Scan QR code & download it
Description
Hack Feature:IAP FREE

Grow and automate the most profitable farming empire of all time!
Make smart investments into a wide variety of whacky crops and animals and you''''ll earn millions in no time. Can you build the most profitable farming business in the universe?

FEATURES
- AUTOMATE your farm and earn continuously while you're away to get rich
- COLLECT hundreds of cool crops and animals, each with their own style
- WEATHER CONTROL – Increase production by powering up the sun and making it rain on your farm
- PRESTIGE by taking your crops to market in return for magical seeds
- INVEST WISELY with smart decisions on when to upgrade, harvest or earn idle profits
- PLAY ANYWHERE! - Free to play online or offline, no connection required.

More>
Information
Category
Languages
Update
Developer
Compatibility
Games
English, Finnish, French, German, Italian, Japanese, Korean, Portuguese, Russian, Simplified Chinese, Spanish, Traditional Chinese, Turkish 2019/02/11
PandaHelper
Requires iOS 8.0 or later. Compatible with iPhone, iPad, and iPod touch.
PandaHelper
App Market