Home > iOS Apps > Featured > My Gym: Fitness Studio Manager Hack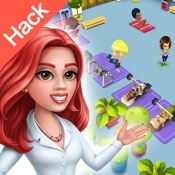 My Gym: Fitness Studio Manager Hack
Size:349.28MB Ver:3.10.2522
Update:2019/03/15
Scan QR code & download it
Description
Hack Features:
- Infinite Coin (Spend some/ Get some)
- Infinite Cash (Spend some/ Get some)

Can you turn a small fitness studio into a bustling gym empire? It's time to build the perfect dream gym.
This fun, addictive management sim will put your skills to the test. Pick the right exercise equipment to cater for a demanding clientele of fitness fanatics. Act as personal trainer to tailor their workout sessions and send them home happy and healthy.
Do a good job and you'll level up and earn rewards, so you can extend your fitness studio, transforming it into a fully-fledged workout hotspot. As manager, you can restyle your gym with new hardwood floors and wonderful wallpapers. Buy décor to brighten the place up and expand to attract new customers and VIPs.

More>
Information
Category
Languages
Update
Developer
Compatibility
Games
EN,FR,DE,IT,JA,KO,PT,RU,ZH,ES,TR 2019/03/15
@iOSGODs
Requires iOS 9.0 or later. Compatible with iPhone, iPad, and iPod touch.
PandaHelper
App Market