Home > iOS Apps > Featured > The Tribez Hack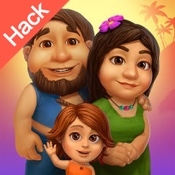 The Tribez Hack
Size:107.00MB Ver:11.0.0
Update:2019/05/15
Scan QR code & download it
Description
Tribez is not just a game! Tribez is an adventure, where you travel to a distant past full of secrets, mysteries and many hours of addictive discovery of an unknown, but beautiful world!
You are invited to visit a primitive world inhabited by a peace-loving people, who have been hidden behind a miles-deep portal from time immemorial. Build your own stone-age village, explore territories hidden by mountains and seas, and lead your tribe, who considers you sent by the gods, to prosperity.
Tribez is a world in which you feel alive!

More>
Information
Category
Languages
Update
Developer
Compatibility
Games
English, Chinese, Danish, Dutch, French, German, Italian, Japanese, Korean, Portuguese, Russian, Spanish, Swedish, Turkish 2019/05/15
PandaHelper
Requires iOS 8.0 or later. Compatible with iPhone, iPad, and iPod touch.
PandaHelper
App Market